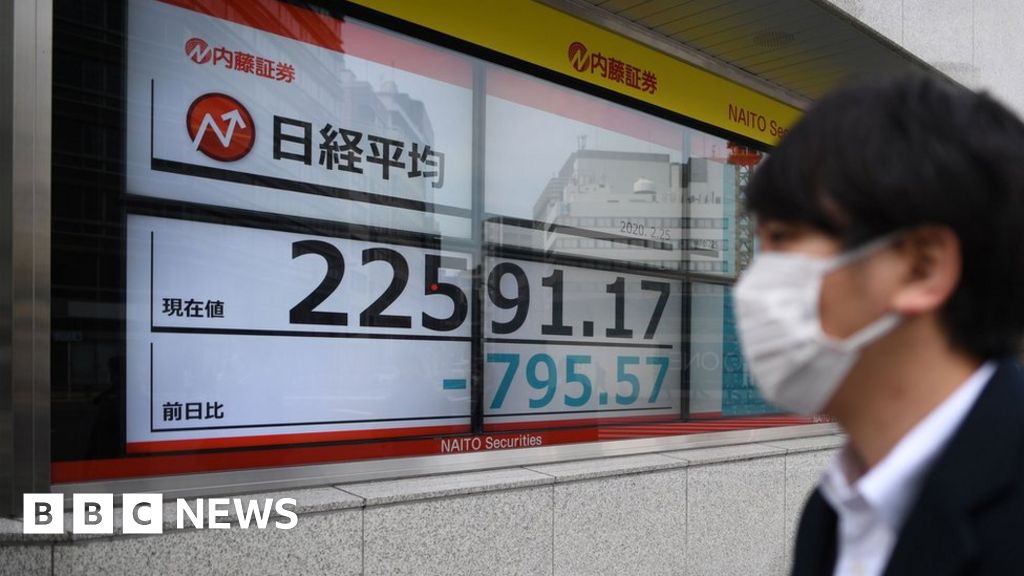 Trading in global financial markets paused for breath on Wednesday, after days of sharp losses spurred by fears about the coronavirus.
The main US indexes were mixed, rising from Tuesday's losses in early trade, before retreating later in the day.
The Dow ended down almost 0.5%, while the S&P 500 dropped about 0.4% and the Nasdaq gained about 0.2%.
In Europe, London's FTSE 100 index and other major bourses pared their losses and were mostly flat.
Earlier, Japan's Nikkei 225 index and the Hang Seng in Hong Kong closed 0.8% and 0.7% lower respectively.
The mixed performance come amid ongoing warnings from firms that supply chains are being disrupted by measures to contain the new virus, which has spread to more than 30 countries.
Factory production continues to lag, travel restrictions remain in place and consumers in some countries are staying at home.
The virus is likely to reduce global growth in the first three months of this year by almost 1%, Moody's Analytics estimates.
However, it warned that if the outbreak was not contained as expected, it could trigger recessions in the US and elsewhere.
"The coronavirus has been a body blow to the Chinese economy, which now threatens to take out the entire global economy," chief economist Mark Zandi said.
Share markets have faced days of turmoil, with the FTSE 100 hitting a 12-month low on Tuesday and the main US indexes losing more than 3% overnight.
On Wednesday, drinks giant Diageo, which owns Guinness and Johnnie Walker whisky, said the coronavirus could cost it £200m in lost earnings this year. Its shares fell 1.8% in London.
Miner Rio Tinto also lost 1.8% after it warned the disease could hit its operations in the next six months.
Microsoft also warned it would not hit its sales targets for the quarter, despite strong demand, because its "supply chain is returning to normal operations at a slower pace than anticipated".
"I think we should anticipate that this environment of heightened volatility and concern continues," Rebecca McVittie, investment director at Fidelity International, told the BBC's Today programme.
She said that countries that supplied parts for complex products – such as cars and computers – were increasingly being affected by the outbreak.
"We've now seen more cases of coronavirus in South Korea. That's a country that plays a very important role, for example, in tech supply chains," she said.
"I think we should anticipate that markets will probably move down."
The moves came as the outbreak continued to spread outside China, with Iran, South Korea and Italy reporting a surge in cases.
About 77,000 people in China, where the virus emerged last year, have been infected and nearly 2,600 have died. Outside China, more than 1,200 cases have been confirmed in about 30 countries and there have been more than 20 deaths.
The International Chamber of Shipping estimates that the industry is losing around $350m a week because of the coronavirus, with empty containers waiting in ports in China and shortages in the US.
However, work in China is slowly starting to resume in many provinces.
Guy Platten, secretary general of the organisation, said he is hopeful that trade will start to rebalance.
"There's a big backlog which will have to be addressed in the coming months, but at least now we hear that the factories are starting to get back to work again," he said.