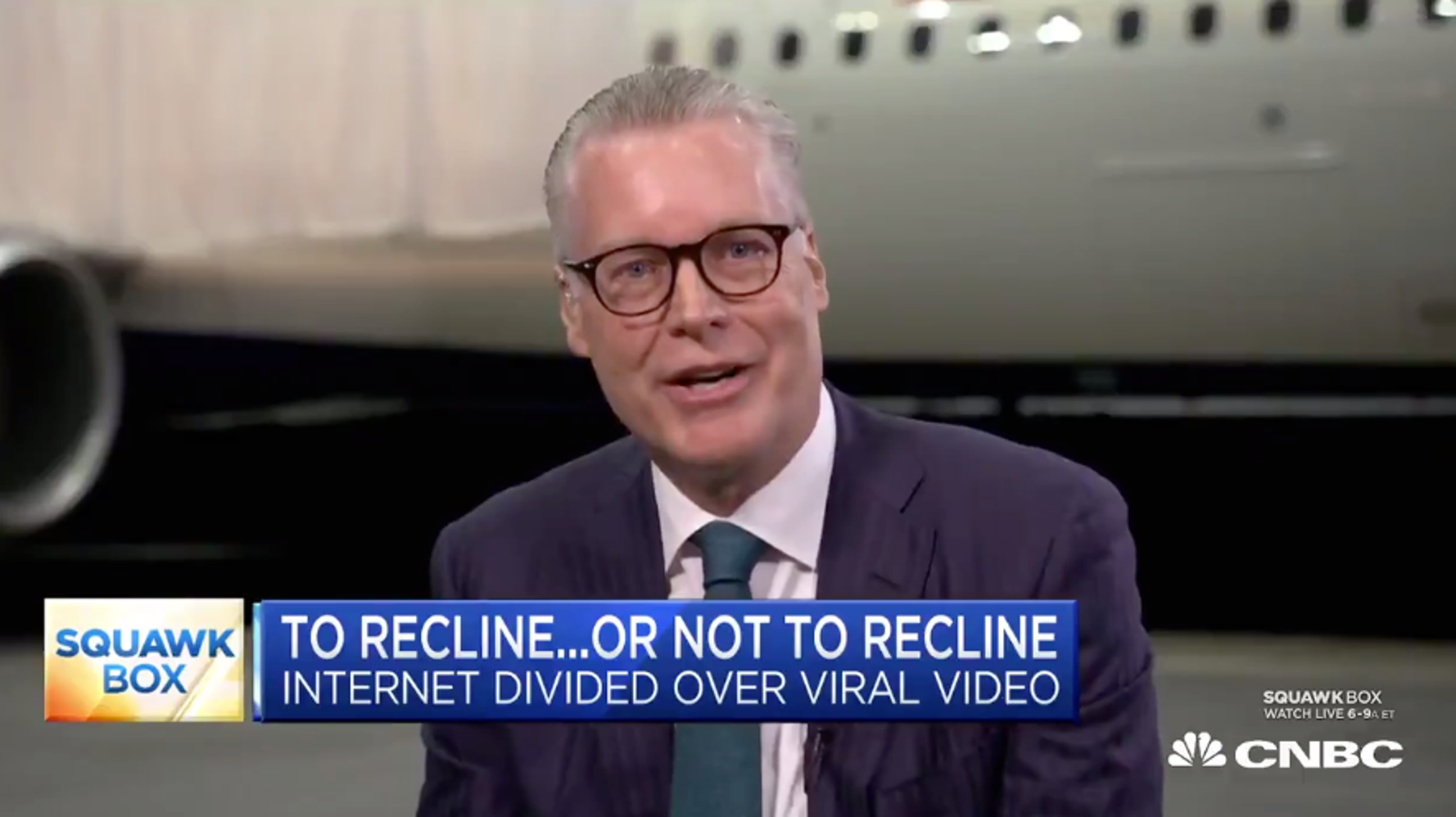 Delta's CEO has offered his take on the controversy sparked by a viral video of a woman in a reclined airline seat and the response by the aggravated man behind her, declaring on Friday that while "customers have the right to recline," they should ask for permission to do so first.
In an appearance on CNBC's "Squawk Box," Ed Bastian talked about the proper reclining etiquette for airline travel.
The issue arose after Wendi Williams tweeted a video of what happened after she reclined her seat during a flight from New Orleans to Charlotte, North Carolina, on American Airlines subsidiary American Eagle. The passenger behind Williams, who was in the last row and could not adjust his seat, responded by repeatedly punching and jabbing her seat.
According to Williams, the man had asked her not recline her seat until he was done eating, and she complied with that request. She then reclined her seat after he was done, prompting the angry reaction ― and, thanks to Williams' tweet, sparking the widespread debate about who was in the wrong in the incident.
@BravoAndy Here's a great jackhole! He was angry that I reclined my seat and punched it about 9 times – HARD, at which point I began videoing him, and he resigned to this behavior. The other jackhole is the @AmericanAir flight attendant who reprimanded me and offered him rum! pic.twitter.com/dHeUysrKTu

— wendi (@steelersfanOG) February 9, 2020
"I think customers have the right to recline." $DAL CEO Ed Bastian shares his seat-reclining philosophy: If there's a tall person behind you "the polite thing is to make certain it was okay. I never recline … and I never say anything if someone reclines into me." pic.twitter.com/JJw5DVH4QG

— Squawk Box (@SquawkCNBC) February 14, 2020
An American Airlines spokesperson told Fox News on Wednesday that the airline was "aware" of the customer dispute and was "looking into the issue."
In the incident's aftermath, Williams has claimed on Twitter that she suffered horrible headaches for a week, losing time at work because she had to visit a doctor.