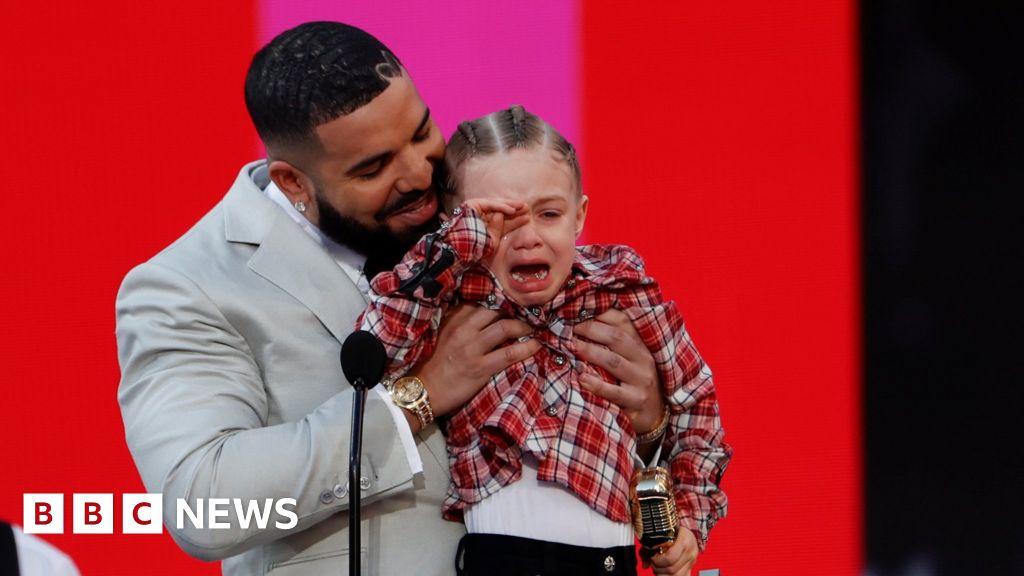 By Mark Savage
BBC music reporter
Drake's son Adonis made a surprise appearance at Sunday's Billboard Music Awards, joining his father onstage as he won an artist of the decade prize.
The rapper, 34, gripped his son's shoulder throughout his speech, before hoisting him into the air and saying: "I want to dedicate this award to you."
The three year old burst into tears, and left the stage clinging to his father's leg.
Meanwhile, The Weeknd was the night's big winner, taking home 10 awards.
Among his prizes were best artist; top Hot 100 album for After Hours; and top Hot 100 song for Blinding Lights.
The star, whose real name is Abel Tesfaye, more than doubled his career total of Billboard Music Awards, having previously received nine trophies.
Korean pop band BTS also picked up four prizes, winning best group for the second time in three years; and top social artist for the fifth consecutive year.
The band are now just one year short of equalling Justin Bieber's six-year hold on the social award from 2011- 2016.
Here are some of the other highlights and talking points from the show.
Machine Gun Kelly painted his tongue black
Best rock artist winner Machine Gun Kelly arrived at the ceremony with a rather unusual oral condition: A jet-black tongue. Had he gone overboard with the charcoal toothpaste? Developed a crippling liquorice habit? Been cursed by an evil dentist?
Sadly not. A visit to his Instagram reveals that the musician had someone paint his tongue carefully with a cotton bud.
On the red carpet, he made sure everyone noticed, sticking his tongue out for fans, sticking his tongue out for the cameras, and (hold your stomachs) touching tongues with his girlfriend, Megan Fox.
His reasons are still unclear. Is it a reference to The Rolling Stones Paint It Black? Or is he simply a big fan of giraffes? We may never know.
Pink admitted her childhood crush
Pink accepted the Icon Award from rock star Bon Jovi, and confessed she'd been obsessed with the star when she was eight – locking herself in her bedroom for a week after he got married.
"I'm very glad you found lasting love, Jon, but you broke my heart. I take this as an apology," she laughed, indicating her trophy.
To celebrate her prize, the star performed a career-spanning medley of hits, including Who Know, Get The Party Started and Just Give Me A Reason.
But the highlight was a breathtaking aerial acrobatic routine, performed with her nine-year-old daughter Willow, set to their duet Cover Me In Sunshine.
BTS debuted their new single, Butter
BTS joined the ceremony remotely from South Korea, posing on their own red carpet (!) to accept the prize for top-selling song – their first English-language single, Dynamite.
"It's really an honour to be the winner of such a significant title," said RM. "We wanted to share some fresh energy with everyone through Dynamite, and we think [with] this award, we achieved that goal."
Dressed in suave black suits, the band also gave a sensationally-choreographed performance of their new single, Butter, which broke Spotify records on its release last Friday.
Late rapper Pop Smoke's mother accepted his prizes
Pop Smoke, who died in February 2020 at the age of 20, won five prizes, including top new artist and top Billboard Hot 200 album, for he posthumously-released Shoot for the Stars, Aim for the Moon.
His mother Audrey Jackson gave an emotional speech as she collected the latter award on his behalf.
"Thank you to the fans for honouring the life and spirit of my son, so much that he continues to manifest as if he were still here in flesh," she said.
"He created music for the kid who has to sleep four in a room, the kid who has to figure out how to get to school each day so he can graduate and make his mom proud. He did this so that 14 year olds would not have to kill to prove they are somebody."
"That is the irony in this," she added. "So thank you to the Billboard Awards leadership for honouring my young warrior. Bashar Barakah Jackson, we call your name."
Priyanka Chopra and Nick Jonas turned heads
The Jonas Brothers reunited to close the ceremony, with host Nick Jonas joining brothers Joe and Kevin to perform a medley of hits including Sucker, Only Human and new single Love Me Before You Leave Me.
Nick was accompanied for the night by his wife, the actress Priyanka Chopra – and, as usual, they put together a stunning ensemble for the red carpet.
Chopra wore a custom shimmering gold gown with a thigh-high slit, designed by Dolce and Gabbana, embellished with a belt that's previously been worn by Naomi Campbell and Beyonce.
Jonas complemented her with an emerald green designer suit from Fendi – prompting Chopra to post a photo captioned with the drooling mouth emoji.
Here are some of the other eye-catching red carpet looks.
The Weeknd gave a death-defying performance of Save Your Tears
One wrong step and… splat.
Drake had a stirring message about self-doubt
Drake used his artist of the decade speech to reassure up-and-coming musicians that even the most successful artists worry about the quality of their songs.
"Even if I do a good job I always wonder if I could have done better," he said.
"For anyone who's watching this that's wondering how this happened, you know that's really the answer. It's being so unsure of how you're getting it done that you just kind of keep going in the hopes of figuring out the formula."
"I didn't really write a grandiose speech about how to make it work or what it took, 'cause you know, to be really honest with you I don't quite understand it myself," he added.
Doja Cat and SZA sizzled on stage
Doja Cat and SZa's Kiss Me More is shaping up to be 2021's song of the summer – and their debut performance of the track only amplified its irresistible charms.
Doja sported a monochrome look with 60s-inspired make-up, as she snapped in and out of sync with a troupe of dancers wearing spherical orange helmets.
For her verse, SZA appeared on a revolving staircase, her golden-sunset waves bringing a burst of colour to the stage; as kaleidocopic graphics swept across the video screens.
Their vocals were flawless, despite two Janet Jackson-level dance breakdowns, with the singers ending the performance with a gravity-defying, muscle-shredding double backbend.
Alicia Keys celebrated 20 years of Songs In A Minor
Alicia Keys' breakthrough album was released 20 years ago next month, and the star celebrated the anniversary by taking viewers through the record's biggest songs.
Seated at a white upright piano, she played the opening track Piano & I, which riffs on Beethoven's Moonlight Sonata, while reflecting on her career to date.
"I remember when they doubted me – but we flipped it," she said. "And now I got all this wisdom, and I'm never leaving the keys, because I know what I'm worth".
That was the cue for A Woman's Worth, which she played on a red keyboard, before switching instruments again – hammering out her Prince cover How Come You Don't Call Me on a rainbow-splattered piano.
Keys wrapped up the performance with her debut single, Fallin' – which, in a video introduction, Michelle Obama had described hearing for the first time.
"It was edgy and soulful, graceful yet raw," said the former first lady. "This young singer was taking us to church and to the symphony and to a candlelight dinner and couples therapy and everywhere else all in a little more than three minutes.
"I knew right then and there that this wouldn't be the last we'd hear from Alicia Keys, and in the years since she's amazed us again and again in so many ways."
Complete list of winners
Top Artist: The Weeknd
Icon Award: Pink
Artist of the Decade: Drake
Change Maker Award: Trae Tha Truth
Top New Artist: Pop Smoke
Top Male Artist: The Weeknd
Top Female Artist: Taylor Swift
Top Duo/Group: BTS
Top Billboard 200 Artist: Taylor Swift
Top Billboard 100 Artist: The Weeknd
Top Streaming Song Artist: Drake
Top Song Sales Artist: BTS
Top Radio Songs Artist: The Weeknd
Top Social Artist: BTS
Top R&B Artist: The Weeknd
Top R&B Male Artist: The Weeknd
Top R&B Female Artist: Doja Cat
Top R&B Male Artist: The Weeknd
Top R&B Female Artist: Doja Cat
Top Dance/Electronic Artist: Lady Gaga
Top Christian Artist: Elevation Worship
Top Gospel Artist: Kanye West
Top Billboard 200 Album: Pop Smoke, Shoot for the Stars, Aim for the Moon
Top R&B Album: The Weeknd, After Hours
Top Rap Album: Pop Smoke, Shoot for the Stars, Aim for the Moon
Top Country Album: Morgan Wallen, Dangerous: The Double Album
Top Rock Album: Machine Gun Kelly, Tickets to My Downfall
Top Latin Album: Bad Bunny, YHLQMDLG
Top Dance/Electronic Album: Lady Gaga, Chromatica
Top Christian Album: Carrie Underwood, My Gift
Top Gospel Album: Maverick City Music, Maverick City Vol. 3 Part 1
Top Hot 100 Song Presented by Rockstar: The Weeknd, Blinding Lights
Top Streaming Song: DaBaby ft. Roddy Ricch, Rockstar
Top Selling Song: BTS, Dynamite
Top Radio Song: The Weeknd, Blinding Lights
Top Collaboration: Gabby Barrett ft. Charlie Puth, I Hope
Top R&B Song: The Weeknd, Blinding Lights
Top Rap Song: DaBaby ft. Roddy Ricch, Rockstar
Top Country Song: Gabby Barrett, I Hope
Top Rock Song: AJR, Bang
Top Latin Song: Bad Bunny & Jhay Cortez, Dákiti
Top Dance/Electric Song: SAINt JHN, Roses (Imanbek Remix)
Top Christian Song: Elevation Worship ft. Brandon Lake, Graves Into Gardens
Top Gospel Song: Kanye West ft. Travis Scott, Wash Us In The Blood
Follow us on Facebook, or on Twitter @BBCNewsEnts. If you have a story suggestion email [email protected].