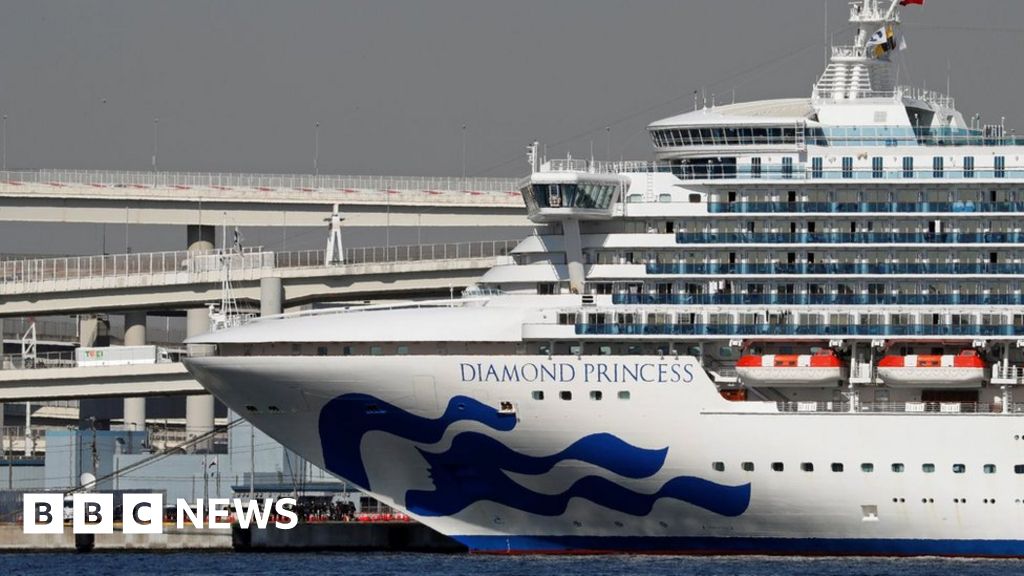 A British man has become the first UK citizen to die from coronavirus after being infected on the Diamond Princess cruise ship in Japan.
He is the sixth passenger to die from Covid-19, the disease caused by the virus, Japan's health ministry said.
Another person has tested positive for the virus in England, which they caught in the UK.
The total number of coronavirus cases in the UK now stands at 20.
Confirming the latest UK case, Professor Chris Whitty, chief medical officer for England, said: "It is not yet clear whether they contracted it directly or indirectly from an individual who had recently returned from abroad."
The patient has been transferred to a specialist NHS infection centre at Guy's and St Thomas' in London.
Prime Minister Boris Johnson, who is due to chair an emergency Cobra committee meeting on Monday, said preparing for an outbreak in the UK was now the government's "top priority".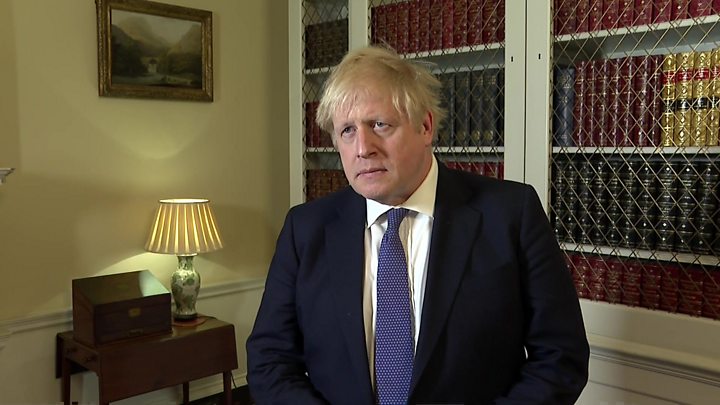 Speaking from Downing Street on Friday evening, Mr Johnson offered his condolences to the family of the British man who died from Covid-19.
When asked if the government should have acted sooner for Britons on the cruise ship, he said it had been following the "best medical advice" about not repatriating people unless it is certain there will not be a spread to the UK.
Mr Johnson has also faced criticism from Labour for waiting until Monday to hold the government Cobra meeting.
But he said he had been working behind the scenes, meeting with the health secretary and chief medical officers to discuss the NHS's preparations.
Hundreds of people on board the coronavirus-hit Diamond Princess cruise ship became infected while it was held in quarantine off the port of Yokohama earlier this month.
A group of 30 British nationals and two Irish citizens were flown back to the UK from the cruise liner last Saturday.
They were taken on coaches to Arrowe Park Hospital in Wirral, where they are spending two weeks in isolation.
However, some UK passengers were critical of the Foreign Office's "slow" response, and said the wait for repatriation had been "frustrating".
Among them were David and Sally Abel, from Northamptonshire, who were not on the evacuation flight after testing positive for the coronavirus. They were part of a group of at least four Britons taken to hospital in Japan for treatment.
A family member confirmed the couple are "doing well and fighting fit", adding: "They are getting stronger every day."
What do I need to know about the coronavirus?
WHAT ARE THE SYMPTOMS? A simple guide
WAYS TO PREVENT CATCHING IT: How to wash your hands
WHERE ARE WE WITH A VACCINE? Progress so far
A VISUAL GUIDE TO THE OUTBREAK: Virus maps and charts
WHAT DOES IT MEAN FOR MY HOLIDAY? Your rights as a traveller
Earlier on Friday, three more cases of the virus were confirmed in the UK, including the first one in Wales.
Two new patients in England contracted the virus while in Iran, the Department of Health and Social Care said.
Public Health Wales said it was working to identify close contacts of the Welsh patient, who is believed to be from the Swansea area and was infected in northern Italy before returning to the UK.
Northern Ireland also confirmed its first case on Thursday. Authorities said they have contacted passengers who sat near the woman on a flight from northern Italy to Dublin.
Following the UK national's death in Japan, a Foreign Office spokesperson said: "We are supporting the family of a British man who has died in Japan and are in contact with local authorities.
"Our sympathies and thoughts are with his family at this difficult time." 
A spokeswoman for Princess Cruises, which operates the Diamond Princess ship, also offered the company's "sincere condolences".
The first death of a Brit from the coronavirus is, sadly, not a surprise.
This outbreak has killed around 2,800 people, most of them in China.
As the number of people infected with the virus increases, so too will the number of deaths.
That is why attention continues to be on China, Italy, Iran, South Korea and Japan.
Each of those countries still has full-blown outbreaks of the coronavirus and their efforts to contain it will be crucial.
Other countries are already feeling the ripple effects of these outbreaks. The latest cases in the UK are connected to either Iran or Italy.
For now there is no coronavirus outbreak in the UK, but further imported cases are almost inevitable for as long as other countries have large numbers of infections.
The cruise liner, which had 3,711 passengers on board, was put under quarantine in Yokohama in early February after a man who disembarked in Hong Kong was found to have the virus.
At least 621 people on the ship later tested positive for coronavirus.
On Friday, the World Health Organization raised its global risk assessment of the virus to "very high" because of the continued emergence of cases and new countries being affected.
But Dr Michael Ryan, executive director of the World Health Organization Health Emergencies Programme, reiterated that the outbreak is not a pandemic.
He told a press conference: "If we say there is a pandemic of coronavirus we are essentially accepting every human on the planet will be exposed to that virus and the data does not support that as yet."
In other developments:
Globally, more than 80,000 people have been infected. About 2,800 have died – the majority in China's Hubei province
The UK's FTSE 100 share index has been hit by the biggest one-week fall since the 2008 financial crisis amid coronavirus fears.
Newcastle and West Ham football clubs have banned handshakes at their training grounds in an attempt to stop the virus' spread.
Richard Ratcliffe, the husband of Nazanin Zaghari-Ratcliffe who is currently jailed in Iran, said he fears for her after she developed a "cold" amid reports coronavirus had spread into the prison
Officials said 44 guests left a coronavirus-hit hotel in Tenerife on Friday morning but it is unclear if any of the 168 British travellers confined to the Costa Adeje Palace hotel have departed
Bank of England governor Mark Carney has warned the outbreak could lead to a downgrade of the UK's economic growth prospects, in an interview with Sky News
What should I do to minimise the risk?
Public health advice is to cover your mouth and nose with a tissue or sleeve when you cough or sneeze, throw away tissues immediately after use and wash your hands frequently.
It is also advised to avoid touching your eyes, nose or mouth with unclean hands and avoid close contact with people who are unwell.
---
Have you been affected by the coronavirus? Or do you have any information to share? Get in touch by emailing [email protected].
Please include a contact number if you are willing to speak to a BBC journalist. You can also contact us in the following ways: