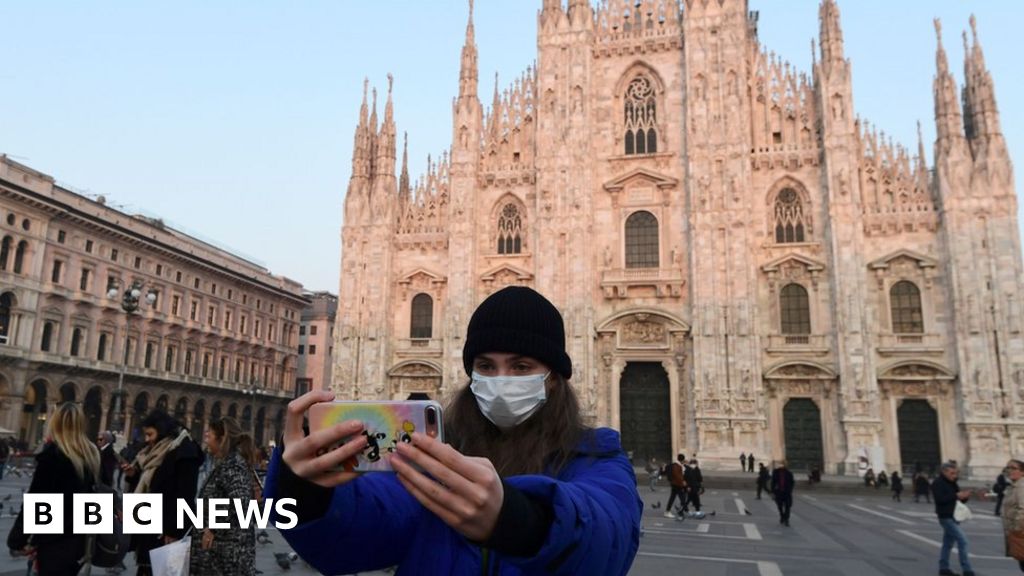 Children returning from holidays in northern Italy have been sent home from school after new government health advice on the coronavirus.
Four schools in England have shut completely for a "deep clean" after pupils came back from skiing trips.
The Foreign Office has now updated its travel advice, warning against all but essential travel to 11 quarantined towns in Italy.
The government said anyone returning from those towns must self-isolate.
And those who have travelled north of Pisa are asked to stay at home for 14 days if they develop flu-like symptoms.
What are health officials saying?
Will I get paid if I self-isolate?
Italy has put the 11 towns in Lombardy and Veneto – areas which attract tourists for their ski resorts – into lockdown.
Police are manning checkpoints around the towns in quarantine after 11 people died.
Some travellers suggested UK authorities were too slow to respond to the outbreak in Italy, where the number of confirmed cases spiked over four days.
Several schools in England and Northern Ireland have advised staff and students to stay at home after they returned from skiing trips in northern Italy.
St Christopher's C of E High School in Accrington told parents it would be closed on Wednesday as a precautionary measure after some pupils returning from Pila in the Italian Alps said they felt unwell.
Four schools have shut completely for a week while they carry out a "deep clean", after students and teachers returned from skiing trips over February half term.
Gedney Church End and Lutton St Nicholas primary schools in the Spalding area in Lincolnshire have closed as a precautionary measure.
Trinity Catholic College in Middlesbrough said "a small number of pupils and staff began showing mild flu-like symptoms".
Students would be sent work to do at home, the school added.
And Cransley School, a private school in Cheshire, also closed after 29 pupils and five members of staff returned from Bormio, a Lombardy ski resort.
In an email to parents, headmaster Richard Pollock said the decision was going further than the advice from Public Health England "to completely minimise" the potential spread of infection.
'Still visiting landmarks'
Guru Singh said he and his partner developed flu-like symptoms after returning from Milan and Venice on Friday.
Having contacted the NHS, they are now being tested at a hospital in north-west London.
"I'm feeling a bit apprehensive, a bit scared," he told the BBC. "They said we fit the criteria to get tested."
Stephen Paskins, who is due to fly back to Bristol from Venice on Wednesday, told the BBC there were fewer tourists in the city, more police and more people wearing face masks.
"The only way to get about is via public transport so keeping away from people is impossible. Everyone is still visiting the landmarks even though you can't enter," he said.
Channel 4 News presenter Jon Snow said he has self-isolated himself as a precaution after visiting Iran to cover the election last week – but he does not have any symptoms.
Meanwhile, a hotel in Tenerife has been locked down with hundreds of guests inside after a visiting Italian doctor tested positive for the coronavirus.
Earlier, Health Secretary Matt Hancock said there were no plans to stop flights from Italy, which attracts about three million British visitors each year.
"If you look at Italy, they stopped all flights from China and they're now the worst affected country in Europe," he said.
British Airways is allowing customers with flights to northern Italy until 2 March – including to Milan or Venice – to rebook for a later date or another destination.
The quarantined towns in Italy are Bertonico, Casalpusterlengo, Castelgerundo, Castiglione d'Adda, Codogno, Fombio, Maleo, San Fiorano, Somaglia, Terranova dei Passerini – all in Lodi province in Lombardy – and Vo' Euganeo in Padova province, Veneto.
A Foreign Office spokesperson said: "We advise against all but essential travel to 10 small towns in Lombardy and one in Veneto, which are currently in isolation due to an ongoing outbreak of coronavirus.
"Any British nationals already in these towns should follow the advice of the local authorities."
Insurers told the BBC that, in general, cancellation or travel disruption cover will activate when the FCO advises against all travel or all but essential travel to an area.
Major events in northern Italy have been cancelled, cut short or rescheduled, including the Venice Carnival and Bologna book fair.
The updated health advice means people returning from these Italian towns, or Iran, parts of South Korea and Hubei province in China – where the outbreak began – are being asked to call NHS 111, stay indoors and avoid contact with others, even if they do not have symptoms.
Mr Hancock said he was not aware of any British citizens currently in the Italian quarantine area, but he said anyone there should contact the embassy in Rome.
What do I need to know about coronavirus?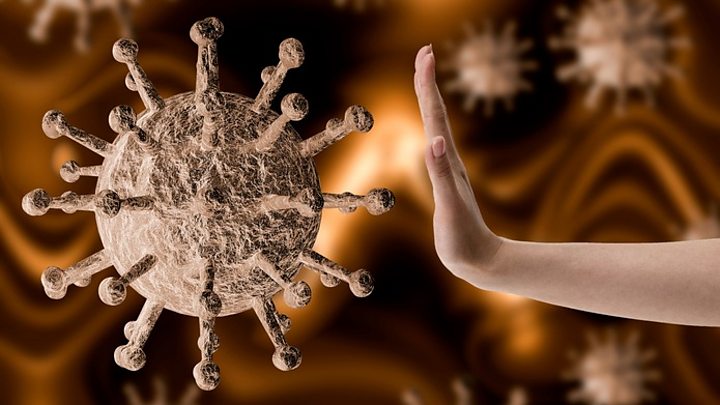 The main signs of infection are fever (high temperature) and a cough as well as shortness of breath and breathing difficulties.
Frequent handwashing with soap or gel, avoiding close contact with people who are ill and not touching your eyes, nose and mouth with unwashed hands can help cut the risk of infection.
Catching coughs and sneezes in a tissue, binning it and washing your hands can minimise the risk of spreading disease.
Anyone experiencing symptoms, after travelling from mainland China, Thailand, Japan, Republic of Korea, Hong Kong, Taiwan, Singapore, Malaysia or Macau in the last 14 days, is advised to stay indoors and call the NHS 111 phone service, even if symptoms are mild.
If you have returned from the following specific areas since February 19, you should call NHS 111 and stay indoors and avoid contact with other people, even if you do not have symptoms: Iran, lockdown areas in Northern Italy, special care zones in South Korea, and Hubei province.
If you have returned from the following areas since February 19 and develop symptoms – even mild ones – stay indoors, avoid contact with others and call NHS 111: northern Italy (above but not including Pisa, Florence and Rimini), Vietnam, Cambodia, Laos and Myanmar.
The main focus for the government is on rapidly identifying people with the disease and taking them to specialist hospitals for treatment in isolation.
They are then tracing anybody who has come into close contact with the patient to make sure they know the signs of the disease and what to do.
After the World Health Organization warned that countries should do more to prepare for a possible pandemic, the health secretary said that the UK had already done "a huge amount of work".
"Once it gets to that point there isn't a way to stop it coming into the UK in a big way," Mr Hancock said.
"It is not yet clear that it will become a pandemic – the number of cases in China has been slowing over the last couple of weeks and we are relatively confident that information is correct."
In other developments worldwide:
China reported 508 new infections on Monday as the death toll rose by 71 to 2,663
In South Korea, 10 people have died after contracting the virus, with the number of people infected reaching 977
Japan has now confined more than 850 people with the virus, mostly from the quarantined Diamond Princess cruise liner
Three more deaths have been recorded in Iran, state media says, bringing the death toll there to 15
Mr Hancock said if other countries where the number of cases are growing "get their response right", there was still the possibility that the outbreak will remain small in the UK.
"We still expect more cases but at the moment there are 13 cases in the UK," he added.
---
How has coronavirus affected your trip in Italy? Have you recently returned from one of Italy's quarantined towns? If so, get in touch by emailing [email protected].
Please include a contact number if you are willing to speak to a BBC journalist. You can also contact us in the following ways: