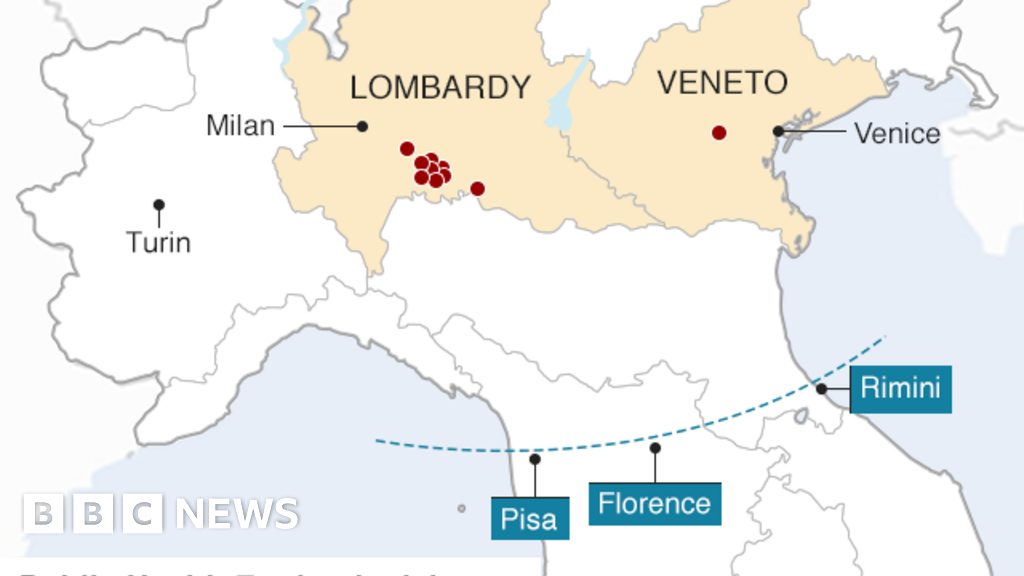 A fast-moving virus originating in China and known as the "new coronavirus" has infected tens of thousands of Chinese citizens and spread to more than 30 countries.
The respiratory infection which causes pneumonia-like symptoms has claimed nearly 3,000 lives so far and has been declared a global emergency by the World Health Organization (WHO).
South Korea has seen the largest number of cases outside China, while Italy has had the highest number in Europe.
These key maps and graphics will help you understand what is going on.
1. More than 30 countries have cases
While China is the epicentre of the outbreak, cases have started to occur in other countries, often being traced back to people who had travelled from China.
As the number of countries with cases grew and the virus spread, the WHO declared the crisis a global health emergency on 30 January.
Infections of coronavirus – known officially as Covid-19 – have now been recorded in more than 30 other countries, including South Korea, Iran, Italy, Japan, Thailand, the US, Canada, France, Germany and the UK.
More than 600 of the 3,700 people on board a British-registered Diamond Princess cruise ship docked in the Japanese port of Yokohama were diagnosed with the virus and quarantined on the ship. Three people died.
Hundreds of foreign nationals have been evacuated from Wuhan by several governments including the US, France and Britain.
A growing number of countries have advised their citizens to avoid all non-essential travel to China and many have announced screening measures for passengers arriving from the country.
The US has declared the outbreak a public health emergency and the UK has declared it a "serious and imminent threat" to public health, announcing new powers to fight its spread.
US advises against all travel to China
Coronavirus 'imminent threat' to public health
2. South Korea, Italy and Iran are battling to contain the virus
The jump in the number of cases outside China raised fears the virus outbreak could become a pandemic – when an infectious disease spreads easily from person to person in many parts of the world.
Paul Hunter, professor of health protection at the University of East Anglia in the UK, said the spike in numbers was "extremely concerning".
South Korea, Iran and Italy are three global hotspots for outbreaks.
South Korea has the largest number of confirmed cases outside China – with a rise in reported infections on Wednesday.
The biggest virus clusters have been linked to a hospital and a religious group near the south-eastern city of Daegu, which has a Coronavirus: A visual guide to the outbreak population of around 2.5m.
Meanwhile, Italy has seen the largest number of cases in Europe, and the country's authorities have announced a series of measures to try to halt the virus's spread. It is not yet clear how it entered the country.
Several small towns in the Italian regions of Lombardy and Veneto have been placed in lockdown, leaving 50,000 residents unable to leave without permission.
Many businesses and schools have also suspended activities, and sporting events have been cancelled – including several top-flight football matches.
The UK has advised against travelling to the region. Public Health England says anyone returning from the specific towns of Codogno, Castiglione d'Adda, Casalpusterlengo, Fombio, Maleo, Somaglia, Bertonico, Terranova dei Passerini, Castelgerundo and San Fiorano and Vo' Euganeo since 19 February should call NHS 111, stay indoors and avoid contact with other people, even if they do not have symptoms of the virus.
Several other European countries have also announced their first cases. Austria, Croatia, Switzerland and Spain said the cases involved people who had been to Italy.
On the Spanish island of Tenerife, up to 1,000 guests were locked down in a hotel after an Italian doctor and his wife tested positive for the virus
The first positive virus test has been recorded in Latin America – a Brazilian resident just returned from Italy.
Iran confirmed it has seen a number of cases of the virus, most of them in the holy city of Qom, south of capital Tehran. Fewer than 100 people have officially been infected, but it's assumed the numbers are far higher.
In response, many of Iran's neighbours have announced the temporary closure of their borders with the country.
Iraq, Afghanistan, Kuwait and Bahrain have reported their first cases, all involving people who had come from Iran.
3. But the majority of cases are still in China
Tens of thousands of people have been infected and hundreds have died in China since the virus's discovery in the city of Wuhan, Hubei province, in December.
Thousands more are under medical observation. The number of overall cases in the country has been rising since January.
China has introduced a number of tight restrictions in a bid to reduce infections, including cancelling flights, closing schools and workplaces and ordering some cities to go into lockdown.
On Monday (24 Feb), Chinese authorities postponed the country's annual parliamentary gathering – the National People's Congress.
Hubei province – the centre of the outbreak – remains the worst affected, seeing by far the biggest number of cases of the virus.
Its capital city of Wuhan, home to 11 million people, has been under lockdown since 23 January, with transport links into and out of the city closed.
The origins of the new coronavirus have been linked to illegally traded wildlife at Wuhan's seafood market, which sells live animals including bats, rabbits and marmots. However, the exact source of the outbreak has not been identified.
Officials in Hubei province have come under fire for their handling of the virus outbreak, including causing confusion by changing the criteria used to count the number of cases.
Changes to the way patients were diagnosed half way through February caused a brief spike in the number of confirmed cases, but this change was later reversed, causing a later dip.
Since this spike, the number of daily confirmed cases has been falling, official figures show.
A study of 44,000 coronavirus cases by the Chinese Centre for Disease Control and Prevention found that more than 80% had been mild, with the sick and elderly most at risk, while 4.7% had been critical.
According to Chinese officials more than 18,500 people have recovered from the virus.
4. Daily deaths appear relatively stable
The number of deaths announced each day by the Chinese authorities has been fairly stable over recent days – following the spike caused by the change in diagnosis criteria in mid-February.
Wuhan continues to account for the majority of new cases and deaths in China.
However, the new coronavirus has now overtaken the 2003 Sars epidemic in both confirmed cases and deaths.
The Sars – severe acute respiratory syndrome – outbreak lasted around eight months and killed 774 people out of around 8,100 confirmed cases.
5. The symptoms are respiratory
Coronaviruses are common, and typically cause mild respiratory conditions, such as a cough or runny nose.
But some are more serious – such as the deadly Sars and Mers – Middle East respiratory syndrome.
Covid-19 is a new strain not previously identified in humans.
It seems to start with a fever, followed by a dry cough and leads to shortness of breath after a week. Notably, the infection rarely seems to cause a runny nose or sneezing.
But in more severe cases, infection can cause pneumonia, severe acute respiratory syndrome, kidney failure and even death.
A report on the early stages of the outbreak by the Lancet medical journal said most patients who died from the virus had had pre-existing conditions.
Medical researchers and scientists say it is too early to accurately predict how the virus will spread or calculate the death rate, partly due to mild cases remaining untested and unrecorded and a time lag of reporting infections.
The incubation period – between infection and showing symptoms – lasts up to 14 days, according to the WHO. However, some researchers say it may be as long as 24 days.
Chinese scientists say some people may be infectious even before their symptoms appear.
As there is not yet a specific anti-viral treatment for coronavirus, people with the infection are currently being treated for their symptoms.
What are the symptoms?
The Chinese doctor who tried to warn about coronavirus
6. You can do things to reduce your chances of catching it
The WHO is advising people in affected areas to follow standard procedures to reduce the chance of catching the virus.
They include hand and respiratory hygiene as well as safe food practices.
People are advised to avoid close contact with people suffering from acute respiratory infections; wash hands regularly, especially after direct contact with ill people or their environment; and avoid unprotected contact with farm or wild animals.
Avoiding eating raw or undercooked animal products is also advised.
According to the WHO, although it may be possible that people with coronavirus may be infectious before showing significant symptoms, people showing symptoms are, so far, causing the majority of virus spread.
Those with symptoms should practise "cough etiquette", including maintaining distance, covering coughs and sneezes with disposable tissues or the inside of an elbow, and washing hands.
In China, protective face masks are in widespread use – both among the general population and medical staff.
Although virologists are sceptical about their effectiveness against airborne viruses, there is some evidence to suggest the masks can help prevent hand-to-mouth transmissions.
Medical advice in China is to change masks regularly – as often as four times a day for medical teams – and Chinese authorities have appealed to other countries to help with supplies.
Can wearing masks stop the spread of viruses?
7. If a case is suspected, there are processes to follow
The Chinese government has classified the outbreak in the same category as the Sars epidemic.
This means people diagnosed with the virus in the country must be isolated and can be placed in quarantine.
Within healthcare facilities, the WHO advises staff to implement enhanced standard infection prevention and control practices, especially in emergency departments.
The WHO advises that patients should be assessed quickly and treated for the level of severity of the disease they have – mild, moderate, or severe.
It also recommends immediately implementing infection prevention measures. These include staff wearing protective clothing and limiting patient movement around the hospital.
In the UK, the Department of Health has declared the new coronavirus as a "serious and imminent threat" to public health, giving authorities in England new powers to keep people in quarantine.
England's chief medical officer, Professor Chris Whitty, said the UK strategy was focussed on containment and isolation.
Arrowe Park Hospital, on the Wirral, and Kents Hill Park conference centre, in Milton Keynes, have been designated "isolation" facilities in the UK.
Four UK nationals flown back to Britain from the Diamond Princess liner in Japan have tested positive for the virus, bringing the total number of cases in the UK to 13.
The four have now been transferred to specialist NHS infection centres.
All but one of the people previously being treated for the coronavirus in the UK have been discharged from hospital.
One of those, British businessman Steve Walsh, contracted the virus on a business trip to Singapore and unknowingly passed it on to 11 other people – five of whom then returned to the UK. He has now fully recovered.
By Lucy Rodgers, Wesley Stephenson, Mike Hills, Mark Bryson and Irene de la Torre Arenas