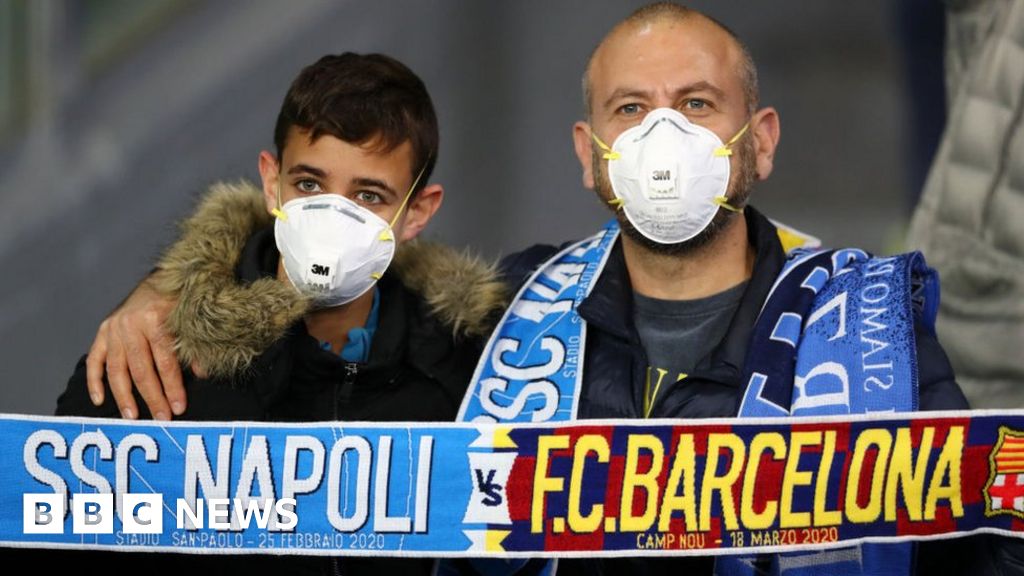 A virus causing severe lung disease that started in China has spread to 27 other countries, including the UK.
The coronavirus had infected 78,159 people in China as of 26 February, with 2,717 of them dying.
What are the symptoms?
It seems to start with a fever, followed by a dry cough.
After a week, it leads to shortness of breath and some patients require hospital treatment.
The incubation period – between infection and showing any symptoms – lasts up to 14 days, according to the World Health Organization (WHO).
But some researchers say it may be as long as 24 days.
And Chinese scientists say some people may be infectious even before their symptoms appear.
How deadly is the coronavirus?
Based on data from 44,000 patients with this coronavirus, the WHO says:
81% develop mild symptoms
14% develop severe symptoms
5% become critically ill
The proportion dying from the disease, which has been named Covid-19, appears low (between 1% and 2%) – but the figures are unreliable.
Thousands are still being treated but may go on to die – so the death rate could be higher. But it is also unclear how many mild cases remain unreported – so the death rate could also be lower.
To put this into context, about one billion people catch influenza every year, with between 290,000 and 650,000 deaths. The severity of flu changes every year.
Can coronavirus be treated or cured?
Right now, treatment relies on the basics – keeping the patient's body going, including breathing support, until their immune system can fight off the virus.
However, the work to develop a vaccine is under way and it is hoped there will be human trials before the end of the year.
Hospitals are also testing anti-viral drugs to see if they have an impact.
How can I protect myself?
The WHO says:
Wash your hands – soap or hand gel can kill the virus
Cover your mouth and nose when coughing or sneezing – ideally with a tissue – and wash your hands afterwards, to prevent the virus spreading
Avoid touching your eyes, nose and mouth – if your hands touch a surface contaminated by the virus, this could transfer it into your body
Don't get too close to people coughing, sneezing or with a fever – they can propel small droplets containing the virus into the air – ideally, keep 1m (3ft) away
What is the advice in the UK?
Anyone experiencing symptoms, even if mild, after travelling from mainland China, Thailand, Japan, Republic of Korea, Hong Kong, Taiwan, Singapore, Malaysia or Macau in the last 14 days, is advised to stay indoors and call the NHS 111 phone service.
If you have returned from the following specific areas since February 19, you should call NHS 111 and stay indoors and avoid contact with other people even if you do not have symptoms:
Iran
lockdown areas in northern Italy
special care zones in South Korea
Hubei province
If you have returned from the following areas since February 19 and develop symptoms – even mild ones – stay indoors, avoid contact with others and call NHS 111:
Northern Italy (above but not including Pisa, Florence and Rimini)
Vietnam
Cambodia
Laos
Myanmar
The Foreign Office now advises against all but essential travel to 10 small towns in Lombardy and one in Veneto in Italy, which have been isolated by the country's authorities
How fast is it spreading?
Thousands of new cases are being reported each day. However, analysts believe the true scale could be 10 times larger than official figures.
Outbreaks have now occurred in South Korea, Italy and Iran, raising fears that it could become a pandemic. A pandemic is declared when an infectious disease threatens different parts of the world simultaneously.
The WHO has said it is concerned about the number of cases with no clear link to China or other confirmed cases. It has said the window of opportunity to contain the virus was "narrowing".
With colds and flu tending to spread fastest in the winter, there is hope the turning of the seasons may help stem the outbreak.
However, a different strain of coronavirus – Middle East respiratory syndrome – emerged in the summer, in Saudi Arabia, so there's no guarantee warmer weather will halt the outbreak.
How did it start?
This virus is not really "new" – it is just new to humans, having jumped from one species to another.
Many of the early cases were linked to the South China Seafood Wholesale Market, in Wuhan.
In China, a lot of people come into close contact with animals harbouring viruses – and the country's dense urban population means the disease can be easily spread.
Severe acute respiratory syndrome (Sars), which is also caused by a coronavirus, started off in bats and then infected the civet cat, which in turn passed it on to humans.
The Sars outbreak, which started in China in 2002, killed 774 of the 8,098 people infected.
The current virus – one of seven types of coronavirus – does not seem to be mutating so far. But while it appears stable, this is something scientists will be watching closely.
Follow James on Twitter.
This explainer will be regularly updated to reflect the audience's questions about coronavirus. Details of how to get in touch are below.
---
What questions do you have about the coronavirus?
In some cases your question will be published, displaying your name, age and location as you provide it, unless you state otherwise. Your contact details will never be published. Please ensure you have read our terms & conditions and privacy policy.
Use this form to ask your question: