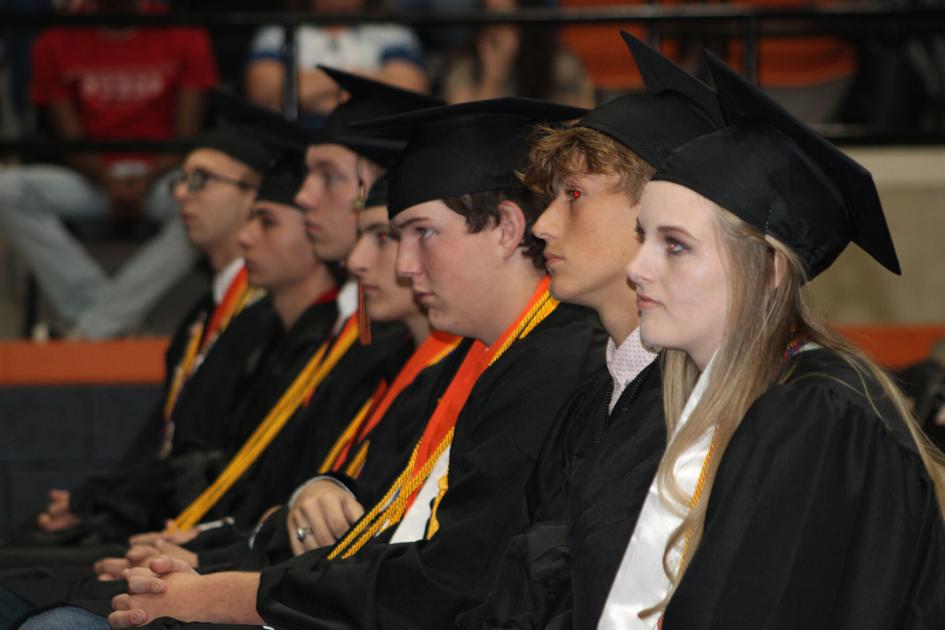 "Get out of Gary, Texas."
That's the advice Valedictorian Emma Adams gave her 34 classmates as they graduated Friday night — but it was not a word against the city. Before she told them that, Adams praised Gary and the community that raised her.
"I'm glad that I have been raised in a setting where I feel so close to my fellow classmates and everyone around me," she said. "The staff at Gary High School are unmatchable. Every time I've come to a teacher at the last minute with no idea what I was doing, and they had no idea what they were getting themselves into, they welcomed me with open arms and do whatever they could to help, even if what I needed help with had nothing to do with them at all… Gary is an amazing place that I can call home and know that I will always be welcomed."
She continued on to give her classmates that piece of advice, saying the world was "full of wonderful places and people different from anything any of us have ever seen."
"I invite you to go out and experience the world and all it has to offer because at this point, we have nothing to lose…" she said.
"Gary ISD has given us a platform and helped us build our wings, but now it is time for us to take those wings to get out and experience the world for ourselves. So move to another state or even another country. Go hot air ballooning, take a trip around the world. Do something crazy. Run with wolves or even move eight hours away to a state you've never been before just to play a sport that you love.
"Most importantly, find your mission and your passion in life," she said. "The great thing about trying new things is if you don't like something, there's a million different others that you can try until you find something that really brings you joy. To make great things even better, you'll meet so many different types of people. So be open and accepting to those people because you never know what good will come out of it."
Adams encouraged her classmates to get to know a lot of different people and experience the impact they will have on you.
"Finally, if you decide anywhere else different isn't right for you, you've seen all you wish to see and done all the things you wish to do, you can return back to Gary and you can be content knowing that you lived your life to the fullest and now you're welcome back to a home with open arms and hearts to the town that started it all and made you the person that you are," she said.
Salutatorian Gracie Johnson encouraged her peers to be awesome, echoing the words of her grandmother.
"There are some words that have stuck with me that I don't think I will ever forget," she said. "My granny brought me lunch on every game day, and she would write a couple of notes on the box. They varied from time to time, including things like 'Let's go Lady Cats" and "Go, fight, win," but there was one sentence that she never left out: "Might as well be awesome." A simple piece of advice, but an encouraging one.
"What does it really mean to be awesome? The main dictionary definition for the word 'awesome' is 'causing or inducing awe, inspiring an overwhelming feeling of admiration.' I believe I can speak for the class when I say that you all are indeed awe inducing and very admired. The teams are in awe of the couches for showing us what it means to dedicate yourself and to persevere, always striving for the best, but being graceful if the best is not what's achieved," she said.
Johnson praised her classmates for their accomplishments and gave credit where credit was due.
"Ladies and gentleman, family and friends, faculty and staff, what you're about to witness is the graduation of what I believe to be one of the best classes to ever walk the halls of Gary High School," she said. "On the front rows tonight sit some of the most dedicated athletes, the most talented actors, the most diligent workers, the most skilled video gamers that this school has seen. Despite there being a significant amount of raw talent and work ethic, a group with this level of accomplishment does not arise without the help of brilliant family members, teachers and coaches."
She spoke about how they were all shaped by each other, their teachers and their parents.
"These are the things that stick with you," Johnson said. "In a decade or two, given that the Lord has not yet returned, we won't be thinking about high school in and of itself very much, but even if we don't realize it, we'll be thinking in ways that we were shaped to think by you. You have a permanent influence on the rest of our lives. You are awesome, and you have set an example for us to be as well."