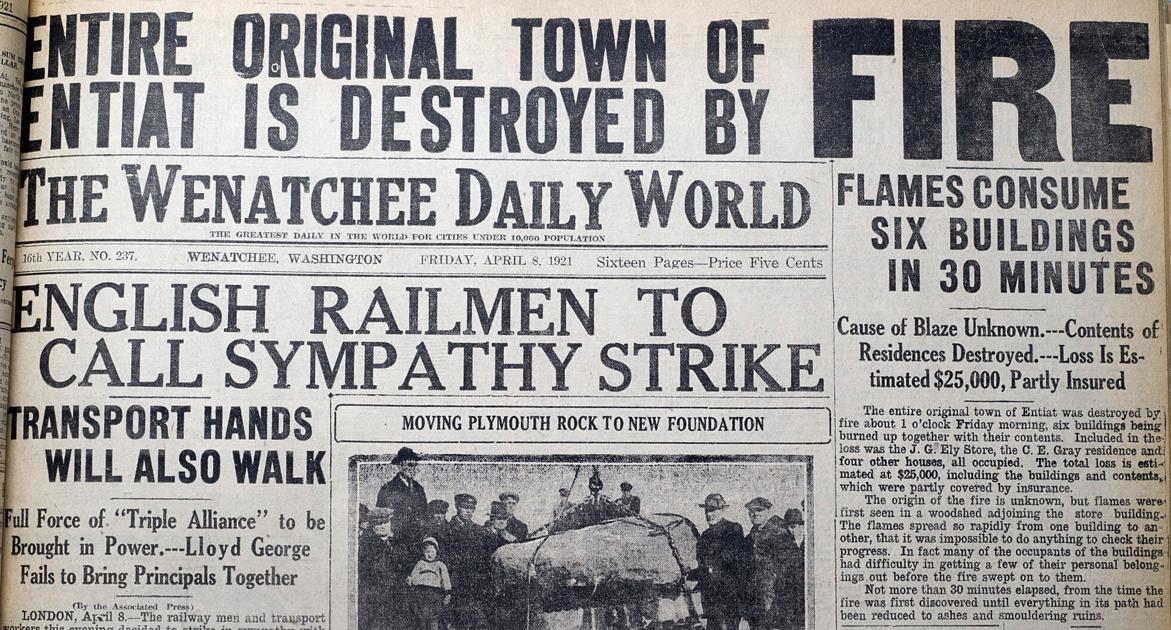 From the archives of The Wenatchee World
115 years ago — 1906
C.E. Lewis has purchased from Charles Houck 10 acres on Burch Flats across the Wenatchee River for $3,000. Lewis recently sold five acres of land in the Wenatchee Valley for $3,600.
James McManus, who has been visiting at the F.E. Ping home on Orondo Avenue for the past two days, left for his home in Butte, Mont., this afternoon.
M.H. Bird, who has been operating a tailoring business on Orondo Avenue, will leave this week for Quincy where he will open a shop.
J.B. Basche and H.A. York are the new owners of Farnsworth Drug Store on Wenatchee Avenue. Basche and York, both pharmacists, will change the name of the business to the Red Cross Pharmacy.
D.D. Olds returned on the afternoon train from a short business trip in Seattle.
John D. Atkinson, attorney general for the state of Washington, has become a member of the Wenatchee Commercial Club.
The Phillip Miller ranch of 400 acres, which for years has been referred to as the largest and one of the most productive ranches in the Wenatchee Valley, will be divided into five-acre tracts and sold. Miller has owned the ranch for over 20 years. O.B. Fuller has been appointed exclusive agent for the sale of the property. Miller will retain his home and about 70 acres of orchard.
Mr. and Mrs. John Isenhart of Chelan are in Wenatchee today on business. Isenhart is manager of Ellis-Forde Company's store in Chelan.
65 years ago — 1956
A new park in East Wenatchee is beginning to take shape through the work of volunteers and another new site for similar development has been given to the county. East Wenatchee Kiwanis Club is organizing development of a 10-acre park site donated to the county last year by Rex Tedford. It is located just west of Grant School. Workers have completed grading and once leveling is done, the area will be landscaped. Meanwhile, Douglas County has been deeded an area of about five acres adjacent to the new high school site by Kenroy Investment Co.
Walt Hammil, a pioneer fieldman for the Wenoka Federation since 1928, is retiring Sunday.
Robert Girard of Winthrop, a third-year Harvard Law School student, has been appointed legal assistant to Justice Hugo L. Black of the U.S. Supreme Court.
Roy Freeman is the new police chief of East Wenatchee. He succeeds Odell O'Neal who recently joined the Douglas County Sheriff's Office.
Low bid of $542,066 on the 2½-mile section of the Cashmere-Dryden highway was submitted by Ellensburg contractor C.E. O'Neal. The new section of highway begins with the end of the existing four-lane road at Cashmere and continues along the north side of the Wenatchee River to Dryden. Work is scheduled to begin late this month.
40 years ago — 1981
John Peterson, a 1973 graduate of Wenatchee High School, started work today as Douglas County's assistant director of planning.
Janis Kendrick, who got her start in athletics at Waterville High School, was named Coach of the Year in girls basketball for the Seattle AA Metro League following the 1980-81 season. Kendrick, daughter of Mr. and Mrs. Phil Kendrick of Waterville, has been coaching girls basketball at Rainier Beach for five years.
Horace Fleming is the new president of the Douglas County Port Commission.
Stones made from Mount St. Helens ash will be among the displays at the annual Gem and Mineral Show as part of this year's Washington State Apple Blossom Festival. The event is sponsored by the Ginkgo Mineral Society.
Benny and the Jetstream will perform in the Fireside Room of the Franklin House this weekend. In other entertainment news, popular Seattle duo Reilly & Maloney will perform in concert at The Orondo. Tickets are $5.
Jerry Cale of Corvallis, Ore., has purchased Eddie Mays Flag Inn in East Wenatchee. Cale plans to manage the 100-room inn and restaurant himself and intends to change the motel's name but not immediately.
Eastmont High School graduate Dr. Kenneth G. Koch has received his degree of Doctor of Chiropractic during March exercises at Palmer College of Chiropractic in Iowa.
Davenport Realtors' $2.25 million Cherry Pines development is now under construction on the corner of Cherry and Stewart streets.