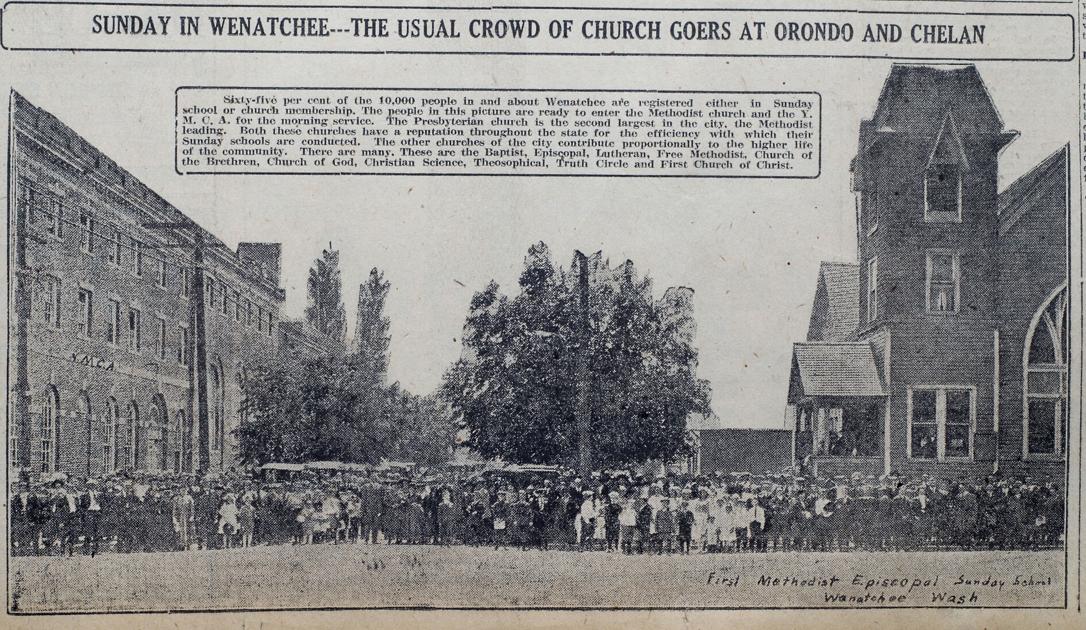 115 years ago — 1906
C.F. Slocum has rented shop space in the rear of the Wenatchee Bazaar on Mission Street and will establish a furniture repair and upholstering business.
Contractor George R. Wilson returned yesterday from Cashmere where he had just completed construction of a new warehouse for Wenatchee Produce Co. His next project will be remodeling the Chelan County Courthouse.
Wenatchee Water Commissioner Pat Sherburne is busy installing water meters. He began in the business district and will work up the hill. There are currently 100 meters in use. They are installed at the expense of property owners or the city will charge a rental of 25 cents a month.
Hobson Bros. Co. began delivering brick this morning to Wenatchee Produce Co. for the addition to its warehouse on Wenatchee Avenue.
George W. Stetson of Seattle yesterday purchased the Elberta Hotel property at the corner of Palouse and Mission streets for $13,000. The property includes the two-story hotel building and five lots facing on Palouse Street. When the lease of the present tenants expires June 1, Stetson will put a crew of men to work repainting, repapering and renovating the hotel.
George Ellis left for Chelan this morning to visit one of the branch stores of the Ellis-Forde Co. He will return in two days.
J.M. Duffy has installed a large window in front of the cigar stand to protect it from adverse weather.
A crew of 60 men is now at work at Monitor building a new rail depot and side tracks.
T.J. Groves and Emil Miller will soon begin construction of a three-story brick block with frontage of 100 feet on Wenatchee Avenue. Groves will occupy part of the building with his grocery.
65 years ago — 1956
Mrs. Walter McLean and Frank Sonntag will be installed royal matron and royal patron of Wenatchee Court No. 11, Order of Amaranth, Saturday night.
Five boys and four girls from Waterville High School have been named to The Wenatchee Daily World scholastic team. They are Noreen Wilkinson, Mary Kay Wilson, Judy Viebrock, John Gollehon, Nyle Barnes, Cliff Adams, Adelbert Elliott, Clinton Viebrock and Penny Rock.
For the first time in a major sport, Eastmont High School will be represented at district track and field championship competition in Omak Saturday. Members of the Wildcat squad include Ronnie Johnson, Kenneth Vanatta, Greg Laney, Jim Gaston, Cliff Pendell, Rennie Keasal, Orville Hopkins, Roy Van Slyke, Fred Casebeer and Joe Hume. Lou Boni coaches the team along with Dale Bunnell.
Dr. D.B. Fager and Dr. L.E. Hildebrand, both of Wenatchee, and Dr. T.C. McGranahan of Cashmere are attending a two-day postgraduate medical course on allergy at the University of Washington.
Old 1147 will take a four-block trip to her final resting place in a park area near Benton and Columbia Streets Monday. The old Great Northern steam engine was recently given to the city by the railroad for public exhibition.
Cecil Keller has been reelected president of Wenatchee Wenoka Growers Association.
Eleven students at Entiat High School have been named to The Wenatchee Daily World's scholastic team. They are Robert Livingston, Alvin Shannon, Virginia Griffith, Peggy Long, Imogene Norris, Connie Franklin, Cherry Cannon, Arlene Vradenburg, Gary McDonald, Jim Fordon and Charles Minnick.
The mighty Columbia River is surging along today eight and a half feet below the 1948 crest at Wenatchee. But it's rising nearly five inches a day and by Tuesday is expected to be from two to three feet over today's level. At that level some houses on Riverview Drive will have water in their front rooms. One family is moving out today.
40 years ago — 1981
Fred L. Miller, a native of the Wenatchee Valley, has been named president and chairman of the board for the Seattle-based firm managing the Wenatchee Center. Miller was born in Wenatchee and lived at Peshastin until his family moved to North Bend.
The Chelan Chapter of Future Farmers of America held its 51st annual parent-member banquet May 14. Ted Dietrich, chapter president, presided at the event. New officers for the coming year are Rod Cool, president; Keith Romiti, vice president; Linda Oules, secretary; and Bob Davis, treasurer.
Led by senior Jeff Prather, Wenatchee High School captured third place in the State AAA golf tournament Friday.
Lucille Johnson and Bud Smith formed the winning combination in the weekly two-ball event at the Rock Island Golf Course Friday evening.
The Columbia Distributing-Three Lake Amateur golf tournament has drawn a record 196 golfers. It's the largest field ever to tee off in a tournament at Three Lakes.
Geoff Waterbury, whose spectacular season included six 700 series, with a high of 729, was honored as Wenatchee's male bowler of the year at an awards function Friday at Columbia Lanes. He was also named most improved bowler. Lisa Ottosen repeated as female bowler of the year.
Members of the Junior Wenatchee Hospital Guild have elected officers for the coming year. They are Mary Ann Corning, president; Kathleen Waslenko, vice president; Sharron Johnson, secretary; and Tina Scull, treasurer.