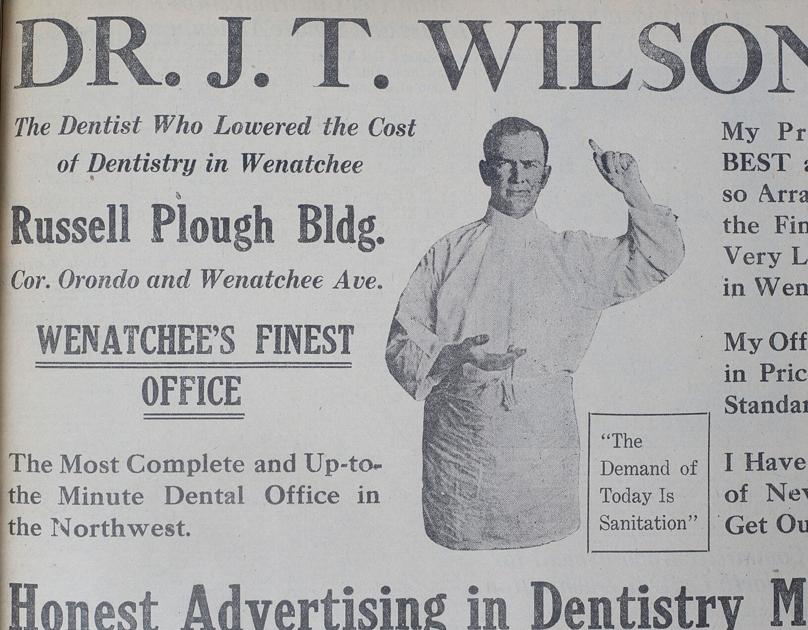 115 years ago — 1906
Ettie I. Griggs and Mrs. Jack Scaman returned to Wenatchee yesterday after visiting in Seattle.
has accepted a job in the dressmaking department of Ellis-Forde Co. She was previously with Thomas Jewelry Store.
will host friends for an evening of cards and dancing at her home.
, a resident of Chiwaukum, is a business visitor in Wenatchee today.
, an Entiat rancher, is in Wenatchee today.
Nellie Culp and Katherine Miller
entertained a group of young people last evening. Cards were played and refreshments were served.
has accepted a position in the mechanical department of The Wenatchee Republic. He was formerly an associate editor at The Advance.
The Chelan County Horticultural Society in a recent meeting voted to hold a farmers' institute Jan. 18-19. A number of noted speakers from around the state will attend the event.
this week filed articles of incorporation for the Wenatchee Bridge Co. The capital stock of the corp-oration is $125,000 divided into 1,250 shares with a par value of $10 each. The purpose of the corporation is to construct a toll bridge across the Columbia River at or near Wenatchee.
of Malaga was a recent visitor to Wenatchee.
65 years ago — 1956
W. Robert Murray is the new president of the Cashmere Sportsmen's Association. Other officers are Lloyd Langum, vice president; and Don Paton Jr.
, secretary-treasurer.
Invitations to bid on the construction of Priest Rapids Dam will be issued by the Grant County PUD around Feb. 1, according to
, PUD manager. Work bids on Wanapum Dam, 18 miles upstream, will be called about two years later.
is the new president of the Bridgeport Chamber of Commerce.
has been named secretary of the Wenatchee Bowling Association, according to Art Redick, the organization's president.
The Belle Reeves Democratic Women met Jan. 5 at the home of
Mrs. Phillip George. Officers elected for the coming year were Mrs. W.C. Kenton, president; Mrs. Phillip George, first vice president; Mrs. James Lynch, second vice president; Mrs. Stan Wood, corresponding secretary; Mrs. Bernie Burke, recording secretary; and Mrs. Rex Clarke
Eva Anderson has been named Woman of the Year by the Delta Junior Women's Club of Wenatchee. Other women honored for outstanding service were Sharon Redlinger, personality; Ione Lonergan, literature; Joy Arch, entertainment; Fern Webb, business; Nixeon Handy, public service; Helen Van Tassell, education; Cameon Hughes, sports; and Vada McMullan
received the Pioneer Award at the annual YMCA banquet Sunday.
Establishment of a junior sheriff's association in the East Wenatchee area is being considered, according to
Douglas County Deputy Sheriff Duke Testall
40 years ago — 1981
is retiring this month after 14 years as district manager for the Social Security Administration here.
A new steak and seafood restaurant is planned for the second level of the Morris building, 23 S. Wenatchee Ave., according to developer
. Brown is owner of David Brown's La Cocina, a Mexican restaurant in East Wenatchee, and Fisherman Ken's, a fresh seafood shop. Brown says he plans to open by May 1 and has not yet chosen a name for the restaurant.
has opened Columbia Chiropractic Clinic at 509 N. Wenatchee Ave. Bailey is a Wenatchee native and is returning here after practicing two years in a Clarkston clinic.
has retired from the board of directors of Security Bank of Washington in Ephrata after an 11-year term.
, a Pennsylvania native, recently began work as a new horticultural specialist at the Cooperative Extension Service in Wenatchee.
A chamber music organization, Friends of Music, is now being formed at the North Central Washington Museum. Dr. William Steward, museum director, announced that the first concert will be held Jan. 24.Dr. Gerald Grillo is the new president of the Omak Chamber of Commerce. Other officers for the coming year are Marj Zabreznik, first vice president; Linn Wicks, second vice president; Marion Wilkie, secretary; and Billie Mullenix, treasurer.Phillip Glass, a district ranger at the Wasatch National Forest in Utah, is the new recreation staff officer for the Wenatchee National Forest.