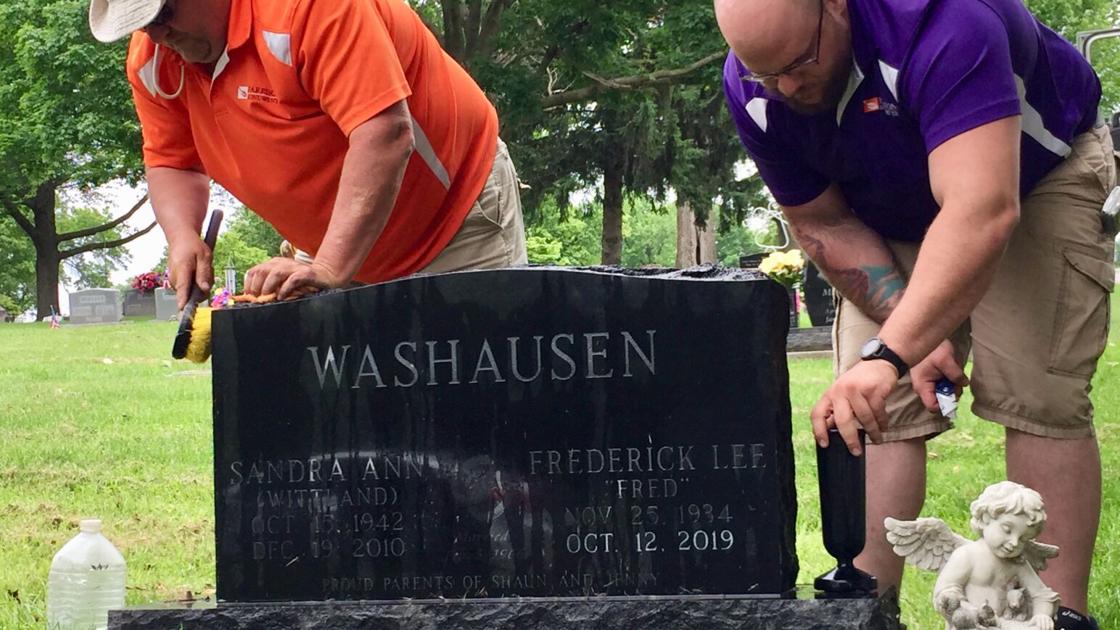 QUINCY — After Jim Bower died in December, his family wanted to add some finishing touches to his tombstone in Greenmount Cemetery.
They worked with Harrison Monuments to add a foundation cap, or base, to the stone then ordered a medallion recognizing Bower's service in the U.S. Navy during the Korean War era and installed vases.
Along the way, they met Jason Arrowood, Harrison's head of monument installation, and "a one-in-a-million kind of guy," Bower's daughter Cheryl Ely said.
Arrowood not only installed the foundation cap but power washed the stone and added extra sod to make the stone look even nicer. He placed the medallion — which was "more beautiful than we imagined," Ely said — and went out of his way to quickly install the vases now filled with red, white and blue flowers and flags for Memorial Day.
"When it all came together and everything was complete, it was emotional but very humbling just to know that he cared so much to take the time to do that for Dad and his children," Ely said.
Bower, Ely said, would have appreciated the effort.
"Dad taught us to help others whenever possible because it was the right thing to do. We are confident that our dad is proud and honored for the extra care that Jason took to make his final resting place complete," Ely said.
"We are touched that a perfect stranger went out of his way to give dignity and respect to a man he never met. Such a kind and giving person like Jason, who uses his precious time to do such meaningful and impactful gestures, even for strangers, is cut from the cloth of love and compassion, and we will forever be grateful," she said. "This world needs more Jasons."
Arrowood downplays his work, saying it's all part of what's become more than just a job but a mission to help grieving families and honor veterans like Bower.
"They were and are willing to be my voice if duty calls, so especially when they're gone, I feel it's my job to be their voice," Arrowood said.
Working to install monuments in tandem with the crane truck dubbed Maggie or cleaning a weathered stone, "I give people somewhere beautiful to go," Arrowood said.
"Whether it's a small stone or an extravagant, expensive stone, every monument out there means something to somebody," Arrowood said. "If it looks good to me and makes me feel good, I know it's going to be great for them."
The work at cemeteries in Illinois, Iowa and Missouri has to meet Harrison's standards — and Arrowood's. "It's a group effort. I couldn't ask for a better group of people to work with," he said.
"With every monument placed, Jason is the last one to see it. He's our quality control. He makes sure it's perfect," Operations Manager Danyelle Harrison said. "He loves what he's able to do for families, helping to provide comfort. He is the epitome of what we try to do."
Often just a voice on the phone to a family after a monument is done, "he's able to touch their lives without ever meeting them. It's a really special thing," Harrison said.
It's a simple philosophy of doing for others honed by Arrowood's grandfather, a proud Army veteran.
"My grandpa always said try during the day to be a story at somebody's dinner table that night. Every day I try to do at least one thing, whether it's a gas station attendant or a customer out in the cemetery, that makes you say 'oh my goodness I ran into this guy today,'" Arrowood said. "That's my goal every day, how I get along with everybody. It's actually selfish because it makes me feel good."
Arrowood's work on behalf of veterans extends beyond monuments.
Since 2005, the Keokuk, Iowa, man has provided sound and public address equipment for veteran ceremonies at Keokuk National Cemetery and has worked with celebrations after installations of veterans memorials in area communities. He's inspired the next generation, his daughter Lyndsay, who sometimes sings the national anthem at the events.
"We feel like we're doing our part," Arrowood said. "A lot of the vets can't speak for themselves anymore. I'll be sure to carry it on the best I could."