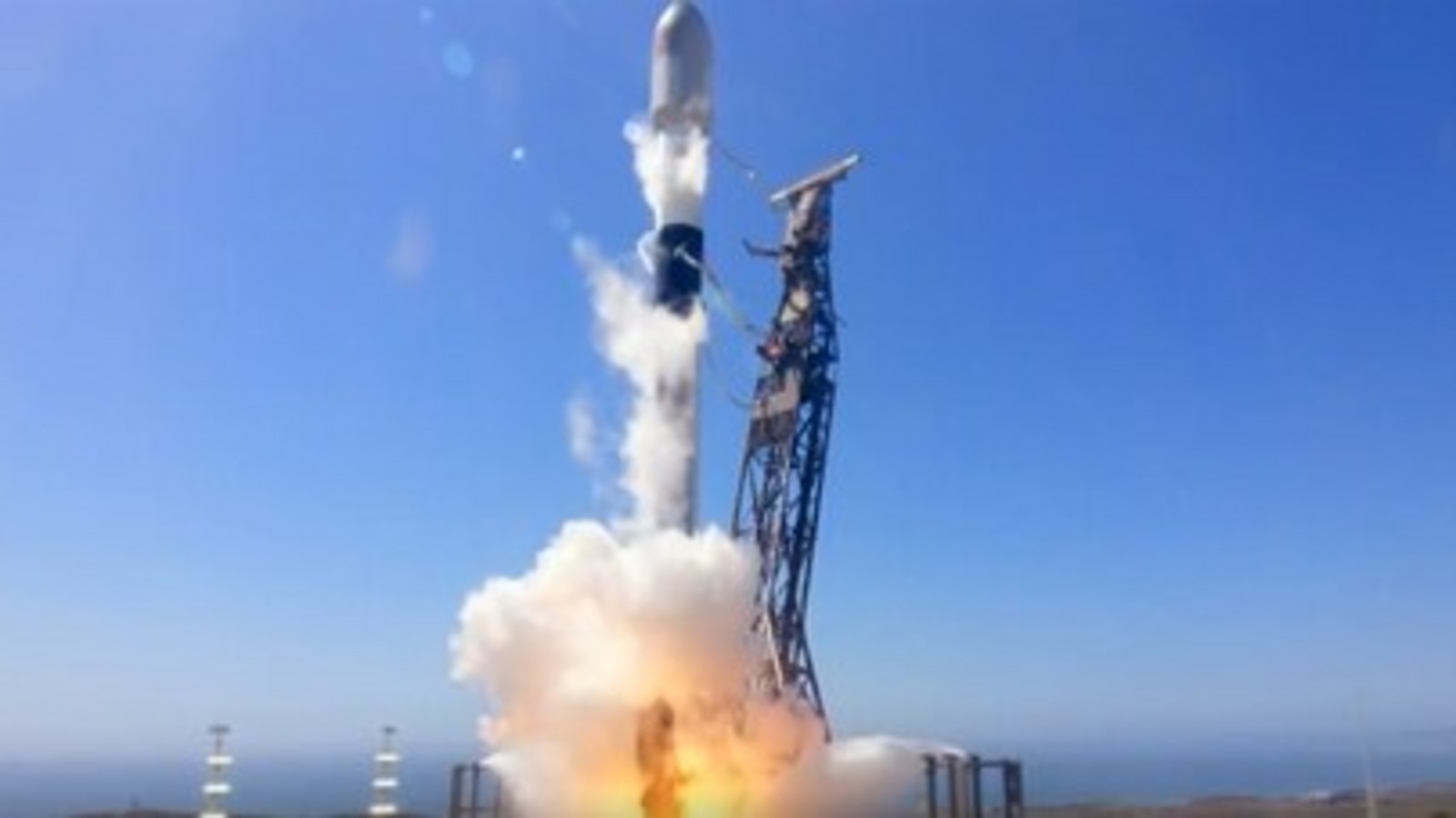 Starlink is a space-based system that has been building for years to bring internet access to underserved areas of the world.
Written by Manjiri Sachin Chitre | Edited by Swati Bhasin
SpaceX on Saturday morning (according to Indian Standard Time) launched a rocket carrying 53 satellites for the Starlink internet constellation from California. The two-stage Falcon 9 rocket lifted off from Vandenberg Space Force Base at 2:37 am IST. Just a few minutes later, the rocket's first stage landed on a droneship – 'Of Course I Still Love You' – which was stationed in the Pacific Ocean. Meanwhile, the second stage continued toward low Earth orbit.
The satellite deployment was scheduled to occur about an hour later. In a tweet, SpaceX wrote that they are "targeting a Falcon 9 launch of 53 Starlink satellites from SLC-40 in Florida in 22.5 hours."
In another tweet, SpaceX shared a video of the lift-off – which was later re-tweeted by the founder of the company Elon Musk.
Also read: SpaceX brings 4 astronauts home, then launches 53 satellites
"SpaceX is targeting Saturday, May 14 for a Falcon 9 launch of 53 Starlink satellites to low-Earth orbit from Space Launch Complex 40 (SLC-40) at Cape Canaveral Space Force Station in Florida. The instantaneous launch window is at 4:40 p.m. ET, or 20:40 UTC, and a backup opportunity is available on Sunday, May 15 at 4:12 p.m. ET, or 20:12 UTC," SpaceX wrote on its official website.
Reportedly, SpaceX has launched over 2,500 Starlink satellites to date. Starlink is a space-based system that has been building for years to bring internet access to underserved areas of the world.
Also read: 'Bittersweet day': Space-X splashdown with Indian-origin astronaut aboard | Video
Meanwhile, SpaceX on Friday announced that its satellite internet service – Starlink – is now available in 32 countries. Starlink shared a map on Twitter that showed the service's availability across the globe. Earlier, the company had said that the services will be available in 25 countries, however, the list has now been expanded.

Close Story
Elon Musk announces 'random sampling' of 100 followers of Twitter

In a continuation of his announcement from a day ago that the Twitter acquisition deal was being put on hold temporarily, world's richest person Elon Musk announced on Saturday his team will do 'random sampling' of 100 followers of Twitter's account on the social media giant's own platform. The sampling, presumably, will be done to estimate the percentage of spam or fake accounts out of the total 61.7 million accounts that follow Twitter.

No one can predict length of Ukraine war, says Zelensky |Top 5 points

Russia's offensive in Ukraine is set to enter the 12th week with Ukrainian president Volodymyr Zelensky saying on Friday night that "no one can predict the length of the war". Ukrainian foreign minister Dmytro Kuleba said that he has asked G-7 countries to adopt legislation and put in place all necessary procedures needed to seize Russian sovereign assets and give them to Ukraine.

Pfizer, EU push back Covid vaccine delivery to help booster campaign

Pfizer Inc and its German partner BioNTech SE said on Friday they had agreed to push back deliveries of their Covid-19 vaccines to the European Union by three months as the bloc prepares for a potential booster campaign in the fall. The companies amended their supply agreement with the European Commission to push back delivery of doses scheduled for June through August until September through the fourth quarter of this year.

New Zealand prime minister Jacinda Ardern tests positive for Covid-19

New Zealand Prime Minister Jacinda Ardern tested positive for COVID-19 with moderate symptoms, her office said in a statement on Saturday. She will not be in Parliament for the government's Emissions Reduction Plan on Monday and the coming Budget on Thursday. Ardern had been symptomatic since Friday evening, returning a weak positive at night and a clear positive on Saturday morning on a Rapid Antigen Test, the statement said.

North Korea confirms 21 new deaths as it battles Covid-19

North Korea says 21 people died and 174,440 people were newly found with fever symptoms on Friday alone as the country scrambles to slow the spread of COVID-19 across its unvaccinated population. North Korea said Saturday 27 people have died and 524,440 fell ill amid a rapid spread of fever since late April. It said 280,810 people remain in quarantine. The country has so far officially confirmed one death as linked to an omicron infection.