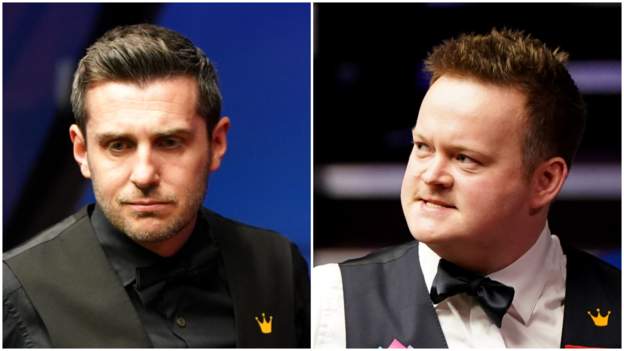 Venue:
Crucible Theatre, Sheffield
Dates:
17 April-3 May
Coverage:
Watch live on BBC One, BBC Two, BBC Four and Red Button, with uninterrupted coverage on BBC iPlayer, BBC Sport website and BBC Sport app.
Mark Selby will meet Shaun Murphy in the World Championship final after he came from behind to seal a 17-15 victory over Stuart Bingham.
Murphy had earlier completed a remarkable turnaround to beat Kyren Wilson 17-12.
The 2005 champion, who trailed 10-4 and 11-6, won all five frames after the match resumed at 12-12 on Saturday evening.
Selby clinched his win in a match that had been halted for overrunning.
Trailing 13-11 overnight, three-time champion Selby made breaks of 125 and 132 to lead 16-14, before Bingham responded with an under-pressure 85, which was the precursor for a pause in play – the first time the final session of a world semi-final had been interrupted.
In all, their gruelling contest lasted almost three hours and 40 minutes longer than the match involving Murphy and Wilson.
Bingham, who won the title in 2015, was hoping to become only the fourth qualifier to win the tournament after Alex Higgins (1972), Terry Griffiths (1979) and Murphy (2005).
However, he appeared to be stifled during several prolonged tactical exchanges in a match that featured two double re-racks and saw Selby warned for slow play, even though his average shot time was almost identical to Bingham's.
"Funnily enough, it is the same sort of player time in and time out," Bingham said. "Does he do it on purpose? I want to do a free-flowing frame.
"Everyone knows there was one shot he took three minutes and then just rolled into the balls. It's close to gamesmanship. Some other times, the balls went over the pocket and we were not giving each other an inch.
"It's tough to lose a close game like that. Mark deserved the win. He came out firing and I had one of those days."
'I did not want a decider' – Selby erases memory of O'Sullivan defeat
A superb long red kickstarted Selby's revival as he made a break of 68 before a brilliant 125 brought him level.
In front of a Crucible crowd of 444, the largest of the tournament so far, Bingham responded in superb fashion with a 100 break, which brought up the 101st century of the Championship – beating 2019's marker to establish a new record.
However, Selby then won the next three frames, a run that included a 132 break, to go 16-14 ahead.
While Bingham held his nerve to extend the match, Selby erased memories of his semi-final defeat by Ronnie O'Sullivan in 2020 and now has the chance to add to a title he won in 2014, 2016 and 2017.
"I was having flashbacks of that happening again. I did not want a decider," Selby told BBC Sport.
"Stuart scores as well as anyone I've ever played against. Overall, he probably played better – I felt like I was digging in and fighting, and towards the end it turned back my way."
Murphy's march to the final
Murphy's performance in the evening session was a continuation of the domination he exhibited throughout the morning to fightback against a faltering Wilson.
World number six Wilson had looked a strong favourite to reach the final for a second consecutive year when he took the day's opening frame.
But towards the conclusion, he proved unable to halt the momentum that propelled Murphy to a fourth Crucible final on Sunday.
Days after suggesting that he had considered quitting the sport, Murphy's triumph arrived on an occasion he called the "biggest day" in his snooker life for six years.
And the changing tone of the match and his determination were underlined by a superb long black that drew a fist-pump celebration and a shout of "come on" as the 2005 champion won the 21st frame to reduce his arrears to 12-9.
"I'd be struggling to find a time from so far behind in a match when I have played so well," Murphy told BBC Sport.
"It means so much to all of us. It means everything. I don't have a problem with the fist pumps, I think we need that in sport. I don't feel I was disrespectful to Kyren. I was celebrating my shots at my time.
"There has been a lot of soul searching and hard questions and trying to unravel the problems on the table."
While Wilson will point ruefully to a couple of unfortunate in-offs, he was comprehensively outscored towards the end of the match, registering just 60 points in the final five frames.
Speaking to BBC Sport, a frustrated Wilson said he found Murphy's demonstrative celebrations "a bit silly" but credited his opponent for a fine display.
"He was going for shots that a lot of players wouldn't even go for and just hammering them home," Wilson said.
"When he gets that Rolls Royce cue action going, he is a hard man to stop.
"I am raging. I came here to win the tournament. I didn't come here to get to the semi-finals. I am always knocking on the door and am trying my best to win the title."
A meeting of familiar foes
The final, which starts on Sunday, sees Selby and Murphy collide at the Crucible for the first time since 2007, with Selby winning that semi-final encounter 17-16.
And both appear to be at their best for what is likely to be an intriguing encounter between two players in their late 30s, who also share the same coach, Chris Henry.
Selby looked imperious in the way he dispatched Kurt Maflin (10-1), Mark Allen (13-7) and Mark Williams (13-3) before overcoming Bingham en route to the showpiece.
"I've known Shaun since we were 13 or 14 growing up," Selby added.
"We were battling at the Willie Thorne Snooker Centre playing in the junior competitions there. He has been playing fantastic and to battle back and beat Kyren is no mean feat."
Murphy has gone from strength to strength since edging past qualifier Mark Davis (10-7).
He goes into the contest after impressive wins over Wilson, Masters champion Yan Bingtao (13-7) and world number one Judd Trump (13-11) in Sheffield.
Sign up to My Sport to follow snooker news on the BBC app.